Spring Break Camp
Spring Break Camp or Vacation Bible School (VBS) is a fun filled, week long, day camp where children aged 4 up to grade 5 can come and learn about Jesus Christ. This year's theme is Roatan Cruise Camp ~ Anchored in Christ.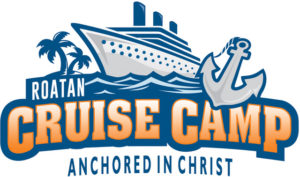 Roatan Cruise Camp
Grace Bible Church is going to be transformed into the Cruise Ship Port of Roatan. Everything from the stage, as a ship, to the hallways becoming a boardwalk, the children will take part in lively singing, games, activities, crafts and Bible lessons that will lead them to be 'Anchored in Christ'.
The Details ~
Roatan Cruise Camp is taking place, at Grace Bible Church, during the week of March 19th – 23rd from 9:30 am – 12 noon.
Open to children aged 4 up to and including grade 5 students. The cost is only $35.00 per child and covers everything they need, including a free Roatan Cruise Camp t-shirt, to have a fabulous week.
Our Leaders
The people serving as leaders, helpers, kitchen staff, assistants, game instructors, story tellers and everyone in between, are all volunteers who simply want to take part in making Roatan Cruise Camp a fun filled week for your child. All of our volunteers come under the leadership of our Children's ministry directory, Gail Vermeulen, and have been trained in order to make this a fun, safe, memorable experience for the kids.
Prayer Warriors
Prayer cannot be overestimated. Prayer moves the hand of God. Our Church is a body of believers dependent upon prayer, and committed to God's sovereignty. We have many, many people who have committed themselves to praying for your child during this special week of Roatan Cruise Camp.
Registration
Registration is now open and spaces are limited so, don't delay. Simply click the link to download the registration form and them complete and bring your form into the church office along with cash or cheque made out to Grace Bible Church. Fees are only $35.00 per child and the fees need to accompany your registration form.